"To move someone, you have to tell authentic stories"
Video mapping on the Empire State Building, immersive aquarium in partnership with the oceanographic museum of Monaco, celestial immersive experience for Van Cleef & Arpel… As Creative director of the visual content at Superbien, Jérémy Cormier directs many different projects, ensuring everything goes "Superbien" when it comes to the creation and delivery of each image produced in the studio. But what does this mean exactly? And how does he adapt his work in a constantly evolving digital world? We went to find out more.
Jérémy was not afraid to wear multiple hats when he first started working at Superbien in July 2019. Whether it's working as an artistic director on a project, as a lead motion designer, or as a creative director, what has always driven Jérémy is to convey a message that speaks to people. Now Creative director of the visual content, he conceives and looks after the artistic direction and production of the images of the studio across all business units. And if no two days are alike for the creative director, it almost always involves conceiving, writing, sketching, researching or briefing the teams. With one end, making sure the created content is a success.
Have you always wanted to become a creative director?
What I did know is that I had plenty of stories to tell and wanted some way to tell them, whether it was in writing, in comics, in movie or in animation. I first studied coding, the creation of infographics or the use of cameras. Then I figured I wanted to go to animation school. Fifteen years ago, motion design was not that common.
After my diploma, I freelanced for a few years in different studios and then started working for an agency in Paris. My job there rapidly evolved and I soon was in charge of answering briefs and of the narrative we were going to offer. Then I started working at Superbien in Paris.
What is the project you are most proud of at Superbien?

I'd say it's the video mapping we did on the Empire State Building in New York for the launch of season 4 of Stranger Things in May 2022. We partnered with Giant Spoon and Netflix and the project was absolutely amazing. Very few video-mappings had been done on the Empire State, and the last mapping was the face of Donald Trump so we thought it was a great opportunity to wash it off with a cool project! 
I'm really proud of it because Stranger things is a huge series and a symbol of pop culture. It has become a real reference that speaks to everyone. We also had a great team. For this project with Tom Scalabre, I built and led the whole creative team, I wrote in collaboration with the agency, I created the board and the sketch. The result was stunning.
It also was exhilarating. It was so intense, it went so fast, we didn't sleep for a week! Like often with events, all you do is work because there's always someone to deal with or something to take care of. I remember the agency had to send interns to turn off each light on each floor inside of the building right before the screening. Also it was quite stressful because the guy who was in charge of the light on top of the Empire State, so the one who was going to manage the whole choreography of lights in sync with our media, refused to show us his work before the screening. That's the thing with events, you really have to trust the people you work with. All of them. On top of that, we were never allowed to screen anything on the building in order not to reveal the project. We didn't know how it would go because we usually rehearse. In these moments we just have to trust our experience and all the members of the team, and in the end, the result was just breathtaking.
What emotions do you want to convey with your work?
My goal is to deliver a message, a story, and as soon as you are able to tell a story, that's when you can give all types of emotions. Emotions are so personal, there's not only one definition. If you want to speak to everyone, you have to aim at the human side of people and you do that by speaking about you. If you want to move someone, you have to tell an authentic story. This is how the reader or viewer will identify with the message, because it was a real message. You can't decide what the person is going to feel, but what you can do is to create a story that will be powerful enough to trigger an emotion.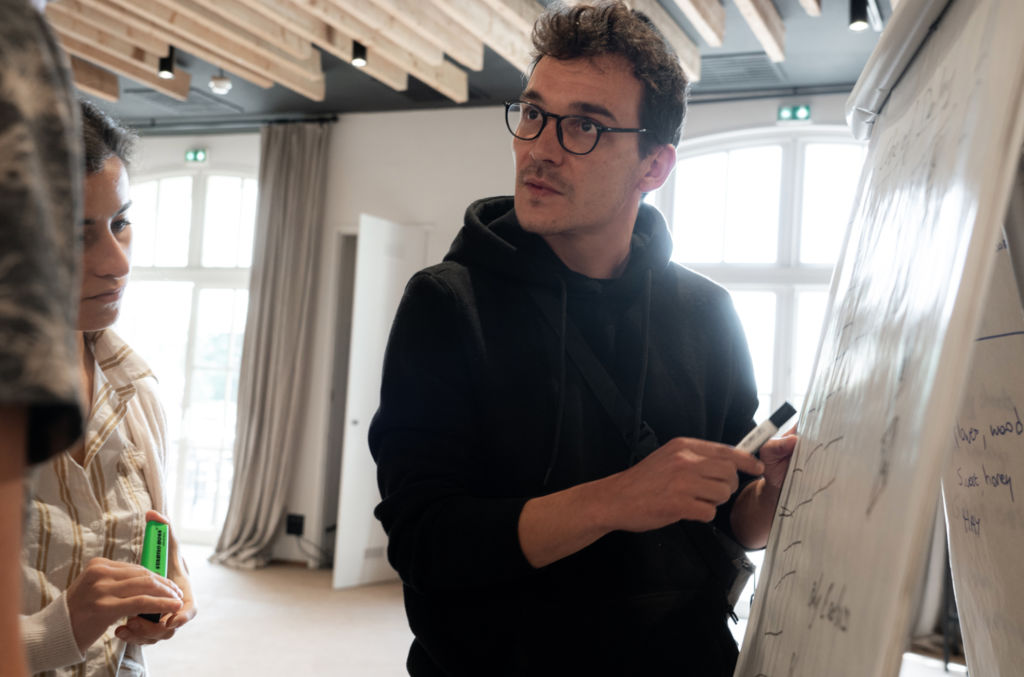 Your projects are multifaceted. How do find the inspiration every time, how do you adapt to all these different topics?
With one of my colleagues, Audrey, we realized that we often tell the same stories, because in the end we tell our own. We tell what we want to hear, what we want to see, what we want to live. That's how we manage not to lie to ourselves and to always land on our feet. Whether we're doing a show for a high-end jewelry brand, a film for cars, or an immersive show where we have complete freedom, what is going to connect us to something and allow us to step out of the blank page is to look for what we want to live, to tell and be told.
With our experience over the years, we know we have these stories within us and the question is: How, thanks to certain codes or sleights of hand with images or writing, are we going to shape it so that it fits in the universe of our client.
In the end, I always write about the same things, about the uplift of humanity, the evolution, the idea that there is no such thing as one universal truth. But also about accepting the look of others without any judgment and accepting of evolving in a world that is constantly changing.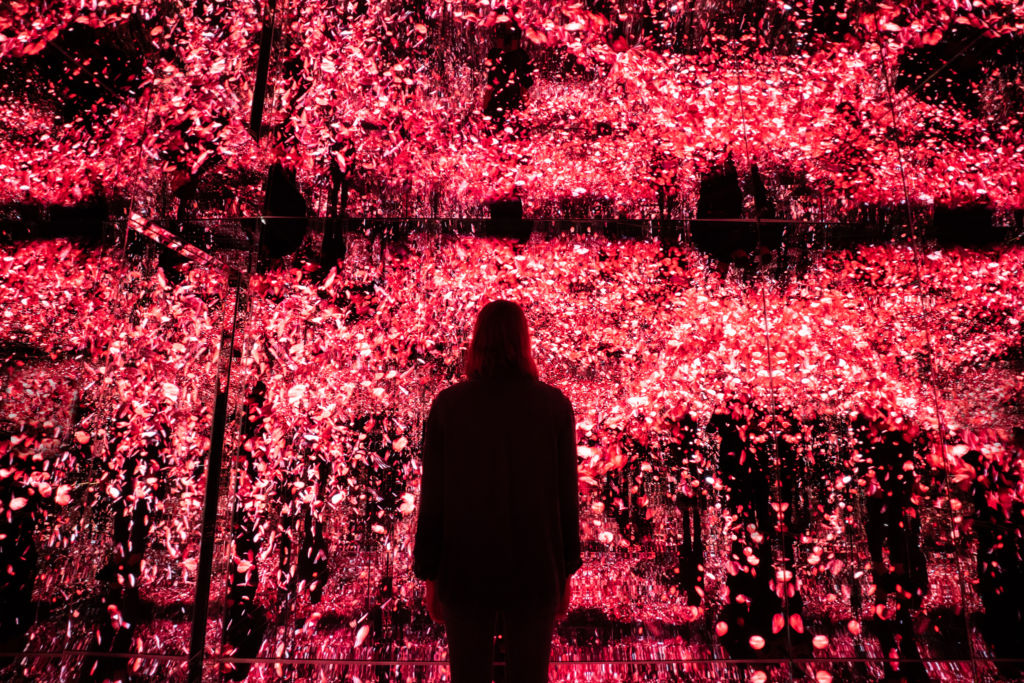 What's your creation process?
First I carefully listen to the client, I often write down bullet points with the key words of their demand. This way, I'm sure I have them in mind and I also use them as a springboard for my narrative. I let it sit for a while and think about how I am going to adapt my story with the message they want to convey. And then I write my ideas, always on paper. Finally, I synthesize everything on the computer, and I go look for images that are going to feed my narrative. What I always keep in mind during the creation process is to give the client an honest, human message. And I do that by mixing their story with mine. That's what allows me to be really direct and authentic when I present it.
What are your sources of inspiration?
I love concerts and I actually played music for 15 years. Practicing music gave me another vision of what the creation process can be. It's about letting your body speak differently. It's also what I try to do in photography, capture the movement, or in dance, with more or less success, trying to let the body language speak. This bridge between your body, your mind and your soul. There's this first barrier, which is to master your tool, but once you master it, then you can tell stories. Also, I grew up in the country, and I really try to find some time to reconnect with nature. I sometimes go fishing, just to switch my brain off, get out of the digital world and find real and authentic sources of inspiration

Your projects always seem to evolve, to go beyond limits in terms of innovation. Is that what drives Superbien?
We're always thinking of how we can do things differently. How we can get out of our comfort zone, and we always try to push everyone at Superbien do to the same. Even with our clients. We won't hesitate to refuse a project if it's not aligned with the way we work of always innovating. Because we always want to go further. I'm building teams at the moment with people who can work with concepts, and who will be able to surprise us with their interpretation of these concepts.
Being innovative also means being curious and constantly on the look-out. Whether it's when visiting an exhibition or going to the opera and carefully analyzing the stage direction. How the light, the music, the rhythm, all of these things, are used. I nourish myself with these external codes. When I learned 3D, I was taught to closely observe everything around me, how the light is reflected on an object for example. Still today, I continue to transpose it in everything.
The digital world is evolving really fast. How does it impact your work and your creations?
We can never sleep (laugh). We always have to be on the look-out for new technologies and new tools. NFTs or metaverses are examples. We're the first actors of this kind of revolution. It was the first time that the art market was open to digital artists. In one week, we had to understand how the world of cryptos worked, how an NFT works, what works and what doesn't. We had to ask ourselves: Do we take position on that or not? It's the same for artificial intelligence. We're always questioning ourselves and thinking: what is my job with these new tools and how can I use them? We often organize meetings and creative workshops to improve our understanding of these topics, mixing technical and creative approaches.
How do you see your job in the future?
I think that where we have a role to play is to make sure that the metaverse does not only have a goal to generate money but that it also becomes a platform of freedom of expression. A place where people can defend their liberty, their way of seeing things, and tell their own stories.
Jeremy Cormier
Creative Director – Visual Content

Want to join the team and be part of our ecosystem of artists?
Please reach out to jobs@superbien.studio
CHEERS,
Article by Olivia Sorrel Dejerine